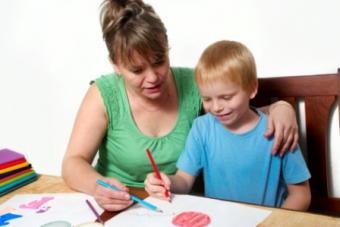 Visual aids are among the most helpful tools when working with children on the autism spectrum, but finding resources can be challenging. Parents, educators and therapists can benefit from finding inexpensive and free materials. Adaptive Worksheets offers both free printable materials and a full range of materials for members.
Jan Hopkins, President of Silver Lining Multimedia, Inc. and Adaptive Worksheets, has taken time to answer a few questions about a great resource for educators and parents to consider.
Interview with Jan Hopkins
What is Adaptive Worksheets?
Adaptive Worksheets contains educational and visual support materials for special needs individuals, especially those with autism. Since autistic individuals are usually visual learners, the materials often contain distraction-free photos and other visual prompts such as color-coding. In addition to educational worksheets, the site contains materials for behavior management, communication boards, cooking, daily living, and life skills.The site is run by our company, Silver Lining Multimedia. We have been creating photo CDs and educational materials for the special needs population since 1998.
What are the benefits of becoming a member?
Members have access to all of the materials on the website including all of the PDF files and worksheet generators. Nonmembers can print the materials from the free area and preview materials available to members.
What age groups are the materials suited for?
Since autistic individuals have varied abilities, it is hard to specify a specific age group for the materials. The educational worksheets cover material that would be taught in typical toddler through first/second grade settings. However, since many older students with autism are included in grade-level classes such as science or social studies, we also have simple worksheets covering topics such as the parts of the microscope, parts of a flower or maps. Many of these more advanced topics can be taught to special needs individuals if the material is broken down and systematically taught.
For older individuals living independently or in group home situations, there are visual support materials for daily living such as chores, shopping, cooking and dressing.
What types of worksheets are available for children on the autism spectrum?
The worksheets cover common subject areas such as math, language, social studies, reading and science. For younger children involved in early intervention programs, there are many supplemental sheets for skills such as identical and nonidentical matching, sequencing, colors, numbers, letters, categorization and object identification.
How can visual support materials help children with self-help skills?
Our visual support materials take a complex task such as brushing teeth and break it down into simple steps with photos. The child can then look at the photos and master one step at a time.
Are there supplies that can help improve behaviors?
The behavioral materials contain photos demonstrating appropriate and inappropriate behaviors. Some of the photos are paired together. For example, a photo of yelling with a "no" sign through it would be paired with a child talking quietly.
There are also behavior charts with suggests for calming down, so that individuals can learn to control and monitor their behavior.
Can any of the materials help improve language and communication?
There are many photos available for picture exchange communication. In addition, there are worksheets dealing with common language difficulties that autistic individuals have such as asking "wh" questions. We've also included worksheets for writing and home school communication.
Are there any new developments on the horizon for Adaptive Worksheets?
We add new materials to the website on a weekly basis. What we add is based upon customer requests. Usually if we receive a customer request for something specific, we can add the material within a day or two.
In addition to the weekly updates, we plan to add more worksheet generators and interactive materials soon.
Worksheets for Autistic Children
Worksheets, visual aids and materials used in applied behavioral analysis offer a system that helps both the child and the instructor. The materials offered by Adaptive Worksheets can make the process of putting a treatment plan into action much easier.
Special thanks to Jan Hopkins for taking time to answer questions about Adaptive Worksheets and the valuable resources the site has to offer.